Howard Arneson:
A true innovator and a very remarkable gentleman



by Tony Weisse
Featured in Raceboat Magazine
Issue No. 9
Photos by Tony Weisse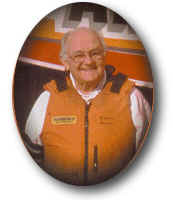 The temperature was a cool 46 degrees with no wind. We were on San Pablo Bay adjacent and north of San Francisco Bay, off San Rafael, California, and Howard Arneson, whose success with his surface drive invention revolutionized powerboating transmissions in the early '80s, had been showing me what his latest pleasure boat could do. It is probably the fastest pleasure boat in the world. I was in one of the two F16 canopied cockpits on Howard's 46-foot Skater reading the speeds from the air speed indicator into the intercom to Howard. This time I spoke into the intercom, "80, 95, 100, 115, 130, 155, 175, 180mph."

After the run, Howard verified that according to his two calibrated speedometers, "Yes we exceeded 170mph."

What made the run even more incredible was, firstly, that the highly modified 29" pitch five blade Rolla propeller we used had previously been damaged, and all of the blades we sort of straightened, and secondly, on top of that, we had over 500 gal of fuel aboard, and additional 3400 lbs. of extra weight.

I had come out to San Rafael to talk to 77 year old Howard Arneson and find out more about his latest pleasure boat project. The always polite and softly spoken Arneson let his achievements speak for him. He is a true innovator and well known for his total and meticulous attention to detail, his relentless focus on testing, and his ability to come up with unique yet simple solutions to complex issues.

We went out for a while on the Skater 46 and made numerous runs easily exceeding 170mph several times as Howard showed off the awesome and incredible capabilities of his latest project, and we loped along effortlessly in the 80 to 100mph range! A single Lycoming 3750hp turbine coupled to a number 10 Arneson Surface Drive powers the 46-foot Skater cat. Additionally, with the 29" prop they had run out of propeller, so he ordered a new 31" five blade Rolla while I was there with which Howard anticipated easily at least another 20 mph! An interesting feature of the 46-footer was the total lack of torque common to a single screw boat in acceleration or deceleration. One could tell that it was that is was not just packing air, and in one test run, which I found extremely incredible, was the zero to 100 mph test in a mere 12 seconds. If we had kept timing, the next 20 or 50 mph would have been even quicker because the acceleration curve past 100 mph was exponential rather than linear.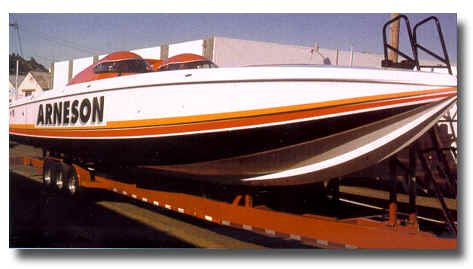 Few powerboaters realize that Howard Arneson has had a significant impact on the boating industry including offshore racing, sports boats and yachts. Until he perfected the trimmable and steerable Arneson Surface Drive (ASD) in the early '80's, stern drive heights (the x dimensions) were 3 to 6 inches lower than they are today, and speeds were easily 10 to 20 percent slower.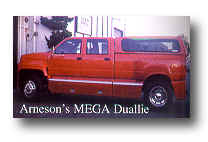 ASDs were so successful in the early '80's that Howard and Tony Garcia as driver swept the 1 982 APBA Offshore racing field in a 38 foot Cougar cat and won a world title. They then continued winning in 1983 taking another World title in their second 38-foot Cougar cat. The ASD domination continued even when Kiekhaefer Aeromarine created the K-Drive from scratch to complete with the Arneson. When Kiekhaefer Aeromarine was bought by Mercury Marine the K-Drive became the Mercury 6 Drive after Mercury went on a major development campaign of the 4 drive (a shortened 3 Drive), and then the all new 5 Drive which was strong, but no match for either the K-Drive or the ASD. It has been noted by many applications. However, its single drawback has been the inability to trim, particularly for cats. Arneson has, however, since overcome that problem by patenting the trimmable rocker plates which are installed when a boat is built by creating two recesses in the hull bottom toward the stern by placing
blocks in the mold approximately 1 inch thick by 2 foot square, and then after the hull is completed adding aluminum plates in those spaces which can be raised and lowered 5/8 inch to create rocker or hook in the hull. The Arneson trimmable rocker plates installed on all of his own boats, allow him exceptional control, and his 46-footer is the only cat I've been on that accelerates and decelerates level. There was always a perfect ride attitude that was rock solid and it felt like the boat was tracking on rails.
Going one step further Arneson recently released transom mounted trimmable rocker plates providing the same capabilities as the molded-in units. According to Arneson, test have shown them to work as well to improve both handling and speed.
Prior to development of the ADS most racing and sports boat propellers were 3 bladed. With the significant increase in pressure on the props blades caused by running a surface drive, 4, 5 and 6 blade propeller technology took off. It has been found that with an increase in the number of blades the pressure is substantially reduced. On a three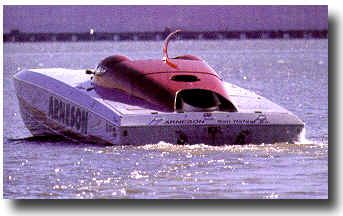 bladed prop, each blade carries 33% of the load, whereas on a 5 bladed prop each blade only carries 20% of the load, a very substantial reduction. With his current turbine powered boat easily capable of sustained speed in excess of 170 mph Howard is currently running a very innovative and unique 5 bladed Rolla cleaver style prop of his own modification, so he continues to push the envelope in propeller technology.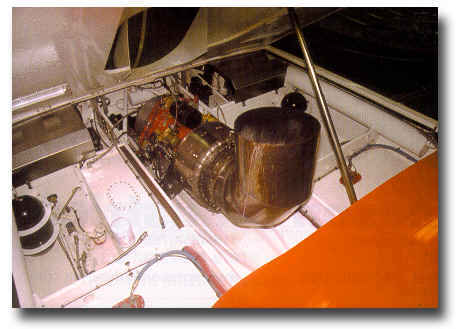 Howard Arneson's name first came to my attention over a family dinner table in 1972 after he bought a 36-foot Cigarette from Don Aronow and commissioned Dan Arena to raise the deck and make an express cabin raceboat. He later acquired an Arena 40 which had fixed straight drive shafts and conventional inboard rudders, like Fabio Buzzi does now. I first met Howard in 1978 when he was racing the 38-foot Scarab 'Sea Sweep' which also had fixed straight drive shafts and conventional inboard rubbers, but it was later rerigged with the trimmable and steerable Arneson Surface Drive. It was really the Arneson Pool Sweep invention that not only made Howard wealthy but also created a whole new industry. The Arneson Pool Sweep was patented in the early '60s and the company was sold to Castle and Cook in 1969. Howard stayed with the company for 12 years and after a brief retirement returned to powerboat racing and the development of his ASD.
In his quest for the reliable high speeds he was the first to order a superboat, a wooden 50-foot Cougar. Howard had planned to run four 500hp detuned engines and two ASDs to reduce maintenance and expense. That plan went out the window when Al Copeland also ordered a superboat from Cougar. An aluminum boat that was finished first and powered by four 700hp race motors. Howard raced briefly then sold his superboat to Tom Gentry who went on to set numerous speed records and world titles with this boat.
Even though Howard retired from offshore racing in the early '80s, his turbine powered boats continued to push the envelope of power, drive, transmission and propeller design, and his creative juices keep flowing. In his desire to run along, hard and very fast Howard chose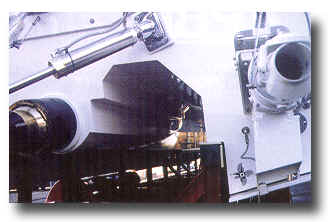 turbine power because of their tremendous power to weight ratios. Being in the San Francisco Bay area with access to the Delta channels running up to Sacramento etc., he has over 1000 miles of running area, ideal for more product development and tinkering.
Being around Howard you would never guess he is 77. His positive outlook, constant energy, and sheer enthusiasm for life and what he is doing is boundless. Howard and his small staff at Arneson Research have now in the last 16 years completed the rigging of 16 turbine powered boats, most of which are either 32, 40 or 46-foot Skaters and are all still running. The 46 we tested has been an ongoing project for 2 years and it was recently completely repowered and rerigged. Originally it had a single 2200hp Russian turbine fitted. He then made the switch to the more powerful Lycoming. The powerplants Howard installs are rebuilt turbines that are no longer FAA certifiable for airworthiness, and they are typically purchased for about 10% of their original new cost.
The first turbine powered boat Howard developed was a 23-foot Arena Vee bottom, next came a 29-foot Sanger Alley Cat and then the Skater 32 with a single 1350hp turbine and a single 8 ASD which completed 550 hours of development and testing yielding a highly reliable and fast boat capable of speeds exceeding 125 mph. Next came the twin-engine Skater 40 with twin 1350hp engines, and after numerous ASD rudder and skeg developments that boat has clocked at 160.184 mph as the two way average on a measured and time kilo run.
To date Howard has completed 4 turbine Skater 40s, one of which is in the Middle East, the other three are in the States. Besides his 46 single he has developed one other Skater 46 fitted with twin 1350hp turbine. Which is owned by Al Copeland together with one of the 40s.
Howard Arneson is probably the most experienced large cat driver in the world boasting and incredible, 800 hours at over 100 mph, which equates to over 80,000 miles. Then add in the fact that in 1990 in his 32-foot skater Arneson demolished the speed record from New Orleans, Louisiana to St. Louis, Missouri a total of 1039 miles up the Mississippi River, setting a new record of 12 hours 40 minutes and 50 seconds, at an average speed of over 83 mph, with numerous long distance sprints to 120 mph.
Other innovations by Arneson include unique applications of power systems to improve docking, as maneuvering a turbine powered catamaran can be interesting to say the least. The 46 idled around the turbine very nicely, and Howard had great control. However, for docking the 32 Howard used two electric trolling motors, the 40 used a single 45hp outboard motor mounted on the transom. For the Skater 46, which he calls 'the biggest wave runner in the world', Howard came up with something unusual-using two 50hp Yamaha wave runner motors, he custom developed external water jet pumps for low speed control when docking.
Current projects are yielding impressive results, and thinking about it later that night, it dawned on me, that in many respects the turbine powered Skater 46 is like Howard himself, extremely innovative, incredibly exciting, possessing awesome capabilities, and yet so mildly mannered. He is a true innovator, a sportsman, and one exceptional gentleman.
Howard never act your age, just go faster!
To subscribe to this fine magazine follow this link:
http://www.raceboatint.com/subs/subs.html